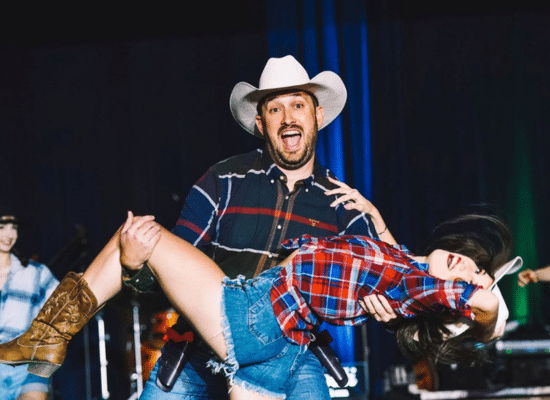 Karsten Derendorf: Dancing (and Growing) for a Cause
In our Employee Spotlight series, we challenge the myths that often surround a career in accounting. Read below to learn about one of our unique team members!
Myth: The life of an accountant is routine and dull.
Reality: Our CPAs are ready for any new challenge—even when it involves sequins.
If you'd told Karsten Derendorf ten years ago that one day he'd be dancing on stage at one of Gainesville's most famous fundraisers, he'd have thought you were delusional.
"I was in a couple of plays in high school, but nothing like this," Karsten said of his previous performance experience (or lack thereof).
But the senior audit manager at James Moore was ready to try something new for a good cause. Fast forward to the 2023 Champagne Gala's "Dancing With the Stars" competition, and Karsten was decked out in full cowboy regalia as he danced to the Watermelon Slide with Beatriz Correa! (Photos of Karsten and Beatriz courtesy of Suzanna Mars Photography.)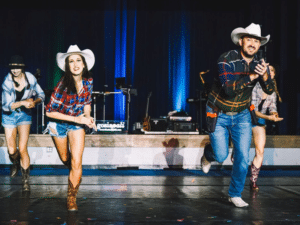 The Champagne Gala is an annual fundraiser for the Dance Alive National Ballet. A professional ballet company with an international roster of award-winning dancers, the nonprofit organization provides culturally enriching, high-caliber performances to audiences across the country. As part of his competition activities, Karsten set up a Facebook page and reached out to coworkers, friends and associates to raise money for the cause.
"I think it's important to support the arts and have worthwhile cultural events," said Karsten. "I didn't know much about (Dance  Alive) as a whole. They're filled with great people, including a lot of international dancers that have come to Gainesville to further the rich culture of our community. Just seeing the passion they all have for the arts was inspiring."
Karsten put in several hours per week of practice with his partner to prepare for the gala. While rehearsals could get grueling, the process was made easier with the welcoming and encouraging people of Dance Alive ("and I needed a lot of encouragement!" he joked).
The experience also yielded some unexpected realizations.
"I was surprised that I have some sense of rhythm!" he said with a laugh. "But I was also surprised at how eager people are to support events and causes like this. We got a lot of people donating that I never would have expected. It was heartwarming to see the community reach out like that."
Karsten's respect and appreciation for the arts wasn't the only reason he chose to participate. For one thing, he knew his wife and daughter would get a kick out of seeing dad on stage. Sure enough, they were in the audience cheering him on during his big dancing debut.
However, he also relished the chance to grow as a person—even if it meant being a little bit terrified.
"There's nothing more uncomfortable than saying, 'Yes, I'll dance in front of hundreds of people!'" he said. "But you need to be comfortable being uncomfortable. That's how we grow."
Check out the other installments in our Employee Spotlight series, and see how you can expect the unexpected with a career at James Moore!
Katie Davis: Happy Traveler, Devoted Adviser
Other Posts You Might Like