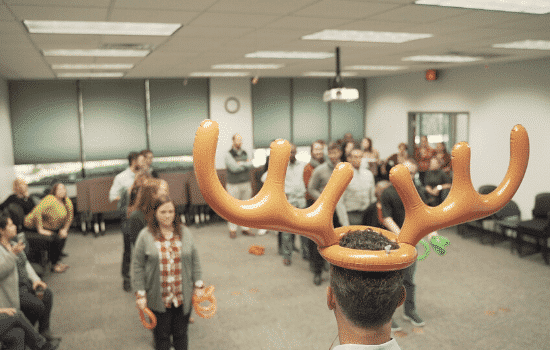 Festivus 2019… and a History of James Moore's Holiday Tradition
Ahhh, December. That time of the year when our thoughts turn to the ones we hold dear… and what we can't stand about them.
Because at James Moore's Gainesville office, December means Festivus! Yes, the same holiday made famous by Seinfeld has been adopted here. What started in 2010 on a partner's whim has become an unstoppable force and beloved yearly tradition.
The mantle of Father Festivus is held by John VanDuzer, who guides us every year in our observance of the holiday. We start with a bountiful potluck dinner that serves as fuel for the later parts of the celebration. From traditional fare such as ham, turkey, stuffing and mashed potatoes to delicious vegan options like tofu and hummus, we make sure everyone ends the meal with a full belly.
While we eat, we conduct the Airing of the Grievances. As nice as we are to each other, we still manage to find things to complain about in good fun. (Otherwise it wouldn't be Festivus!) Grievances include pointless emails, the flimsiness of toilet paper, vague-yet-unintentionally-threatening Skype messages, and the perennial favorite "the office is TOO COLD!" mentions. These complaints are collected throughout the year—leading to a great time capsule effect as we reflect upon our cumulative affectionate sourness over the previous 12 months.
Finally, the time comes for the Feats of Strength to determine who rules the roost at James Moore. Over the years participants have triumphed in hot pepper-eating contests, shown superiority by submerging their arms in ice water, and dominated at dodgeball—during which we realized just how competitive our accountants can be.
Unlike the Seinfeld version, however, our Festivus ends not in bickering but in camaraderie and laughter. After all, it's pretty hard to stay peeved at people when they're blindfolded, wearing ponchos and eating donuts hanging from the ceiling. (Yes, this happened. And it was glorious.)
Check out our pictures from our 2019 Festivus celebration, which included among the Feats of Strength speed tic-tac-toe, a reindeer ring toss, and a "Watch Ya' Mouth" contest that we've wisely decided to omit from the photo gallery.
From the James Moore family to yours, we wish you a Happy Festivus!
Other Posts You Might Like