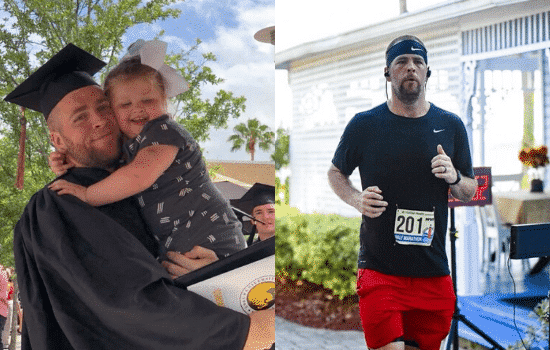 Jeff Harvell: A Constant Search for Improvement
In our Employee Spotlight series, we're challenging the myths that often surround a career in accounting. Read below to learn about one of our unique team members!
Myth: An accountant's schedule doesn't allow for major life transformations.
Reality: At James Moore, we know that these transformations help you discover your full potential.
Jeff Harvell loves a challenge. Especially multiple challenges at once.
In late 2015, Jeff decided to switch careers. While he enjoyed his work on our Technology Solutions Consulting team, he wanted a steadier schedule and new things to learn. Having seen the accounting profession firsthand, he realized that auditing might be a good fit for him.
So in January of 2016, he enrolled at the University of Central Florida to pursue a degree in accounting. His goal was to secure a position in James Moore's audit department.
At around the same time, Jeff committed to a healthier lifestyle. A former college football player, he yearned to get back into shape. After joining a semi-pro football league and taking part in a step challenge at the office, his interest was piqued when James Moore sponsored the MeStrong 5K.
Jeff had never done such a race, but he gave it a try. "I ran alongside a coworker for at least the first mile, and I realized that this was the first continuous mile I had ever run," he says. "I thought, 'Hey, that was pretty cool!'" He committed then and there to the pursuit of distance running.
For the next couple of years, these parallel journeys would continue. On the career front, Jeff excelled in his accounting coursework and received his bachelor's degree from UCF. In January of 2018, he became a Staff Accountant on our firm's auditing team; just a year later, he was promoted to Associate Accountant.
His running also progressed after that initial 5K. He ran the same race again the following year and completed it without stopping. Jeff continued looking for bigger and more difficult events, and in October of 2019, he completed his first half marathon in two hours and 21 minutes—nine minutes under his desired time.
"Deciding to go back to school made me realize I was capable of more than I thought, with working full time and going to classes," he says. "That snowballed into looking for self-improvement in other areas, like my health."
Through both of these endeavors, Jeff explains, James Moore afforded him the flexibility he needed to attend classes, study and take care of himself physically. He also still had time to attend to his family, including a young daughter who needed hospital care.
The adjustment to his new career has been smooth, thanks in part to what he calls the "uniquely positive" atmosphere at the office. "I'm challenged by increasingly difficult work, yet I'm supported whenever I need help. There's no constant infighting or negativity brewing by the coffee machine."
Long-distance running has also changed his life, becoming a valuable stress reducer even during busy season. This in turn has led to him becoming more focused and driven at work.
However, the biggest benefit is the lesson he has learned in pushing himself to achieve more—and not just in physical fitness.
"Pursuing stretch goals and bigger, better things is a great attitude to bring into work. It's made me more focused, more driven," he says. "I'm always looking to improve, to do something new… something better."
"The constant search for improvement has brought me a lot of happiness."
Other Posts You Might Like